Men gym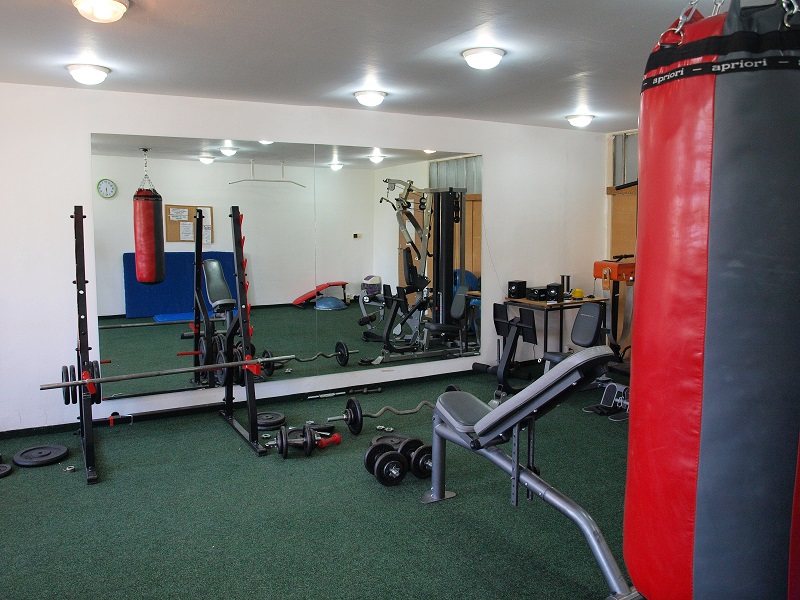 It is located on the 3rd floor.
A reservation and long time membership passes has to be done in ISKAM system.
Gym was newly equipped by firm FITHAM in 2016.  Price per one hour can be found in pricelist of services and gym is opened from 8:00 AM to 10:00 PM.
The gym is equipped with modern exercise machines
STANDARD punching bag 130 x 40 cm / 40 kg
Punching bag with simple packaging and filling machine for long dimensional stability
Surface Material: plastic – high strength, abrasion resistant and temperature changes, washable water
As a filler used several kinds of fabric with different density
hinge comprises four massive chains
Boxing Gloves
Standard Boxing Gloves for recreational and intermediate training
Boxing Gloves for boxing and other contact sports
Quality gloves for moderately intensive training
Material natural cowhide of the highest quality
Increased multilayer padding around the joints
Recommended the use of boxing bandage in gloves
Accessories for mounting
1 x Hanger
2 x carabiner
1 x connecting chain
HOUSEFIT HC10
One-handed dumbbell set 10 kg
Loading dumbbells HOUSEFIT 10 kg allows you to adjust the weights to the range of 2-10 kg.
* 1 x-axis 350 / 30mm finish NiklChrom abrasion
* 2 x 2.5 kg disc painted black
* 2 x 1.25 kg disc painted black
Disc barbells HOUSEFIT
0.5 kg disc – outer diameter 97 mm, width of 13 mm
1.25 kg disc – outer diameter 130 mm, width 18 mm
2.5 kg disc – outer diameter 162 mm, width 25 mm
Disc 5 kg – outer diameter 213 mm, width 29 mm
Disc 10 kg – outer diameter 277 mm, width 34 mm
Disc 15 kg – outer diameter 316 mm, width 38 mm
Disc 20 kg – outer diameter 342 mm, width 42 mm
FOAM ROLLER
Very effective training tool for rehabilitation, relaxation or fitness exercise, which is used in Pilates and yoga. Core Training facility. It is also effective in stretching and muscle massage
Helps exercises that strengthen and stabilize the muscles around the torso and pelvis
Deep stabilization system or rehabilitate various muscle groups
X-gym mat UNIVERSAL
Washer usable on all kinds of exercises from fitness to physiotherapy.
Stiffer but durable and easy to clean surface
Indentations on both sides guarantees a better non-slip properties of the surface
Possibility of hanging through two holes (protected metal fixture against deformation)
MARBO MS-S107
Stand for long barbell
The closure spring 50 mm
Spring lock 50 mm
For Olympic discs
Closure spring Olympic axes 50 mm
TRX ® HOME KIT ORIGINAL
TRX Suspension system HOME KIT
ORIGINAL 3rd generation is a sophisticated exercise system for healthy and intense full body workout involving stabilizing muscles.
As the main resistance using your own body weight and different variations / positions during exercises regulate the difficulty of the exercise.
Very simple tool that consists of only two fixed straps adjustable length and handles for the hands or the feet. However, the intensity can also increase or decrease by changing attitudes exercisers compared to the hinge point. It's incredible how displacement of the body only a few centimeters intensity changes undertaken element. At any moment, or after each iteration of the intensity can be easily reconfigured. What we below under the suspension point, the intensity increases and vice versa. The best strength is that we perceive that the last few reps are performed almost complete exhaustion of muscle strength.
The maximum size of a person to safely exercise can be up to 159 kg / 350 lbs.