Ladies fittness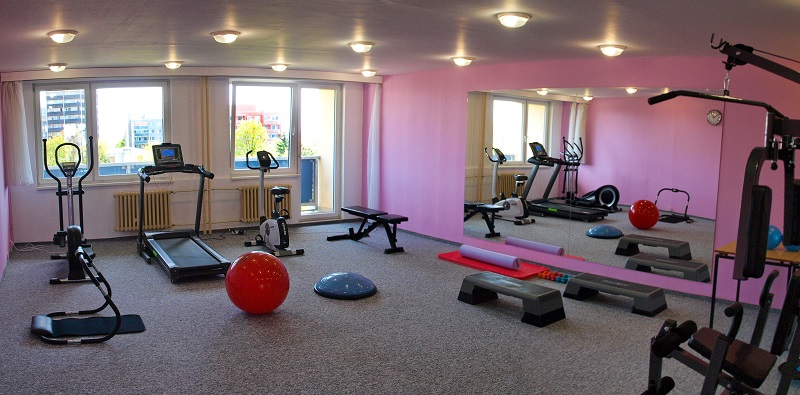 Gym is located on the 5th floor.
A reservation and long time membership passes has to be done in ISKAM system.
Gym was newly equipped by firm FITHAM in 2016.  Price per one hour can be found in pricelist of services and gym is opened from 8:00 AM to 10:00 PM.
Gym has a following training equipment
X-gym mat UNIVERSAL
Washer usable on all kinds of exercises from fitness to physiotherapy.SIze 140 x 60 x 0,7 cm, weight: 0,4 kg
Dumbbells aerobic CY
OVERBALL
Diameter 25 cm
The original Overball 25 cm for health exercises, sitting and back support
Small soft inflatable ball is one of the basic tools for aerobics, physiotherapy and other exercises
original carrying capacity 100 kg
KETTLER GIRO P
bicycle
A total of 8 programs
6 x program with load profile
2 x HRC mode – automatic load regulation when the device itself keeps users in a specific zone Heart frequency determines the optimal training load. It is possible to choose Fat (combustion) / Fit (physical development condition) / Manual adjustment zone. The computer itself after entering the age calculated max. HR and by percentage division sets the appropriate values.
the possibility of setting targets: time, distance, energy consumption, heart rate
Measured data: computer measures time, speed, distance, heart rate, energy consumption (Kcal), RPM (rpm)
RECOVERY function – fitness evaluation mark according breathing rate
FORMERFIT 990
cross trainer
The possibility of simple manual load regulation
12 preset profiles track where the machine while pedaling automatically adjusts according to the load selected profile track
Possibility to create your own route profiles according to individual settings
WATT load program, maintains a constant load in Watts
HRC program heart rate control in which the machine picks up your heart rate and according to her, automatically regulates the load, to keep you in the optimal heart rate zone for fat burning and fitness training
Measured data: Temperature, date, time, speed, distance, calories, speed, heart rate, power, recovery test
BOSU
STEP aerobics K7 PRO
aerobic step
Shortage on step aerobics with adjustable heights and 3 large slip area suitable for commercial use.
Dimensions shortage tread 83 x 27 cm
According to the height settings of 25 – 20 to 15 cm
 Load capacity 110 kg
Weight 8.6 kg shortage
Aerobic band
Latex belt 2 m
Efficient and variably useful tool for both the domestic and group exercises according to resistance levels suitable for both beginners and advanced
Small size and light weight allow easy transportation
Dimensions 200 x 14 cm (subject to change)
Rotana
The well-known product is designed to strengthen the oblique abdominal muscles and rotator at
Rotating repetitive movements while standing.
Pivot is made up of bearings, drive motion is smooth and noiseless
Abdo and spinal rotators
90 kg load capacity
TOGU
Rehabilitation, exercise ball diameter 65 and 75 cm
Manufacturer recommends selecting the ball diameter 75 cm for people with a body height of 178-190 cm.
Manufacturer recommends selecting the ball diameter 65 cm for people with a body height of 165-178 cm.
Manufacturer recommends selecting the ball diameter 55 cm for people with a body height of 155-165 cm.
Quick jump rope
Quick jump rope with metal bearings medium-speed cable
KETTLER AB roller
Resources for exercising abdominal muscles
TUNTURI Flat Bench Easy Roman
FORMERFIT APEX 1522